Below is a short write up on posting to Facebook. What tricks do you use to get as many views, likes, and shares as possible?
To post an iGUIDE to Facebook and get some engagement:
Find an appropriate iGUIDE to share. Select one from a top performing agent preferably.

Click the Facebook share button from the iGUIDE report. If you can't find a copy of the report you can always send yourself a copy from the iGUIDE portal.

On the post page select where you would like to share it. You are usually going to select "Share on a Page you manage" and then select your business page.

Paste text similar to what is below into the "say something" area above of the post:
Take a tour of this great home in Los Angeles: http://bit.ly/2gAMYYF
This is a beautifully appointed home with a great deal of attention paid to every detail. Learn more about this property now: http://bit.ly/2gEqKsi
Customize the text to reflect the house you are posting and use bitly.com to shorten the iGUIDE URL and the agent's listing page URL.
Tag everyone involved in the process. Tag the agent, tag the brokerage, and tag iGUIDE. Tags are done by using the @ symbol and typing a name. Facebook will autocomplete the names for you in a list with names you can choose from.

Share the post to any relevant groups on Facebook. Real Estate and photography related groups are good places to start.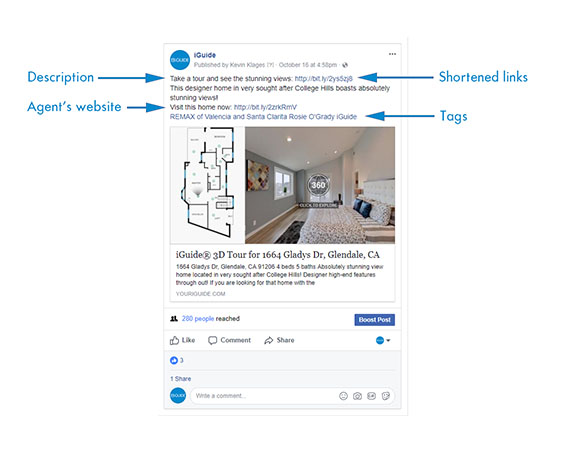 Your goals with a facebook post are to:
Get as many people to see it as possible - build awareness for your iGuide service
Get as many people to like it as possible - gets traffic and results on your facebook page
Get your clients and the brokerage to share it - so other agents can see what they are doing and want to do the same
Once you start posting regularly, you will see awareness for your Facebook page, website and services grow.