iGUIDE knows that 44% of home buyers first look online when beginning their home search and that 57% of home buyers find virtual tours important in their online search. To help agents selling vacant properties still reap the benefits of interactive 3D virtual tours on their listings, iGUIDE has now increased the resolution of their panos and made them compatible with the majority of services that will virtually stage 360° images.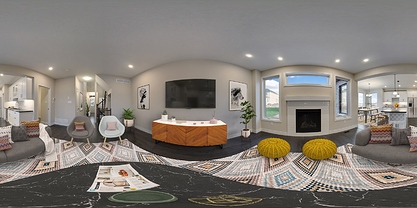 Watch this video to see the difference that Virtual Staging makes.
3D tours of empty properties aren't always a big seller for Real Estate Photographers. Real Estate Agents know that home buyers are often unable to imagine the possibilities that different furniture and decor may present when faced with an empty space. Rooms can look dull and lifeless when they have no furniture, so staging a vacant home can help it to appear more welcoming and home-y, better catching the eye of online home shoppers.
Real Estate Photographers and Agents will now be able to enlist the services of a company, like BoxBrownie, to virtually stage their iGUIDE 3D tours.
Virtual staging allows photographers and agents to add furniture, accessories, blue skies in the windows, and warm fires in the fireplace to their iGUIDE 3D virtual tours to make it easier for home buyers to see themselves in the space, while agents avoid the physical hassle, timing challenges, and high costs of traditional staging.
Making our 360° panos virtual staging-ready is just one more reason that iGUIDE is the gold-standard of property listing tools!
iGUIDE 360° image assets can be easily downloaded for offline editing. For detailed instructions click here.
We're not telling everyone today. Just our Operators, so you're going to want to check out our new Virtual Staging page to get all the information and share it with your clients! The official press release will be shared out publicly in a few weeks.