This forum has two types of categories - public and locked. The locked categories are accessible only to members of the iGUIDE Operators group. If you are a member, you will have a camera icon on your avatar and will see the following categories: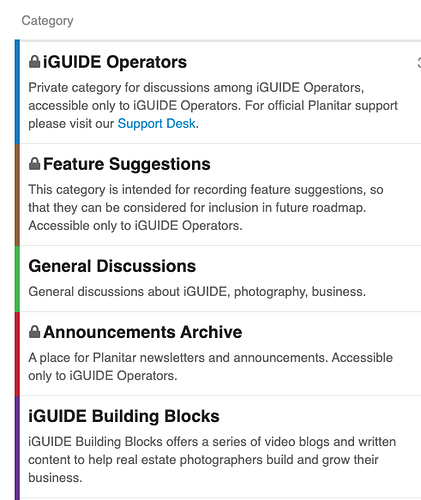 When you purchase an iGUIDE camera, an invitation to join the forum and the iGUIDE Operators group is sent to the email address you provided. The invitation expires in 30 days. If you sign up on this forum using another email address or after the invitation expires, you will need to open a support ticket, provide your camera serial number and email address you used for the forum account and our support team will add you to the group manually.
Our moderators sometimes can move a thread created in a public category into a locked category if the discussion is deemed to concern iGUIDE Operators only and the thread will appear to have disappeared if you are not a member of the iGUIDE Operators group. Therefore, we encourage all iGUIDE camera owners to join the group.