I recently found myself having to win a client's business against the published pricing shown on the iGUIDE website. Am I the only one?
Please intellectually enjoy this hopefully, potentially valuable, discussion. . .
There is this company somewhere else that manages renovation projects for businesses that want to remodel or expand, similar to an architectural firm, but more on an interior redesign application. They have a client that is renovating their space and need CAD compatible as-built floor plans. Doing their research for service in the area that does what they need, they found my website and evidently, had attempted to do some research about the tech I use to map space (iGUIDE) and discovered that it would only cost them $29! What a deal! So, they contacted me to present their project.
I do not charge $29 for floorplan services. Naturally, I was led to inquire as to whom it was that offered this $29 floorplan service. They directed me to the iGUIDE webpage where I had to explain why they misunderstood the pricing (https://goiguide.com/processing).
(self: I knew this day would come the moment I found out that iGUIDE published their pricing to every human, intellectual or otherwise, and would have to figure out a way to maintain a living doing what I love…)
There had been an innocent and clear misunderstanding. As I navigated the awkward conversation to explain that iGUIDE does not offer or manage the actual services of mapping a space, rather they own the technology and process the mapping data for their network of operators. They asked about the $29 again, to which I had to admit to them that they are seeing my cost for the data processing. "So you don't work for iGUIDE?"
Nothing on my website would infer or suggest that I am an iGUIDE employee or contractor, I've checked a dozen times or more because I honor their intentional and proper separation of business perception - it's the reason we had beached the "iGUIDE Nashville" brand… I should note, however, that some of the language used on the iGUIDE website could be mis/translated to presenting the glimmer of a Network Management element, and this could infer they actually Book the Contractors to perform the presented $29 services, similar to how Zillo (and other uber-like photography companies) now books photographers.
With this great discovery (of the potential client), they were naturally not willing to pay (the reasonable price I have calculated and presented in my project quote) to have the floorplans created. At that point, now that they know what it costs to process, they mentioned that they obviously needed to get a few other quotes for this part of the renovation project…
I had to discount my service to win their business, because of the information published on someone else's webpage. (grr…)
Now it has become a question in my world, I would like to ask
Does, or are there plans for iGUIDE to offer floorplan services or book operators to perform these services at the presented $29 price?
I suspect iGUIDE does not offer these services at that price.
As a small business owner that would like to grow their business more often than having to rescue their business, and in lieu of iGUIDE removing the processing pricing from public view (while it would be helpful to do so to help preserve our pricing & value, that's doubtful to happen), I would like to present a discussion on what suggestions other operators may have to overcome the processing pricing challenge.
It would, of course, be tremendously helpful to know what iGUIDE suggests we tell our clients when the topic presents itself, naturally something that is helpful in winning the business of that client without having to slash our pricing. This might make for a great Master Class topic from a successfully grown business that started out as just another solo photographer!
Note: this topic is presented to Photographers that operate their own business that relies mostly on using the iGUIDE tech, and is obviously irrelevant to any real estate, renovation, or contracting & building business models that owns an iGUIDE camera system. That is a completely different perspective and naturally does not have to price-war their business against the machine.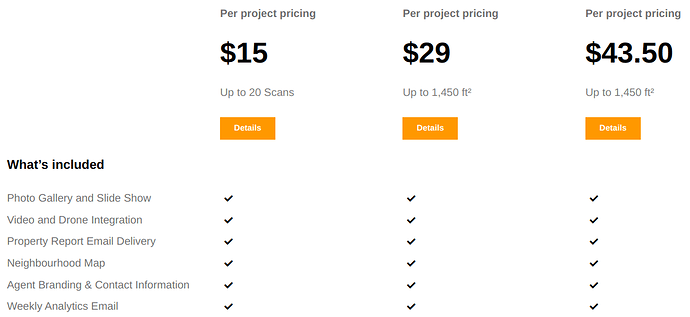 the pic is a copy of the screenshot I was sent by the potential client btw… at first glance, it does appear as if it only costs $29.
At your service. . . .